Outdoor Recreation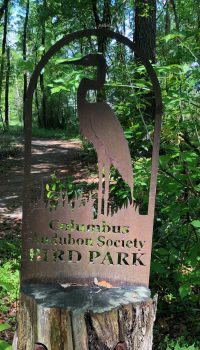 Audubon Bird Garden
Looking for a peaceful area to enjoy your lunch or simply want to spend some time bird watching? The Audubon Bird Garden is located directly behind Oxbow Meadows Environmental Learning Center and connects to the trail to Wrens Pond. This area features a small pavilion with benches for observation along the running stream. While in the garden you may observe many different species of birds as well as other native wildlife to the area.
This area was created in partnership with and sponsored by the Columbus, Georgia chapter of the Audubon Society.
Walt & Frank Chambers Birding Trail
The wonders of nature are available to anyone on our trails with over 4 miles of trails!
Discovery Trail |
0.8 miles
Take the 1 mile trail down to Wrens Pond for a scenic walk that overlooks our wetland, detours in to the Audubon Bird Garden, passes by Historic Westville and leads down to beautiful Wrens Pond. This paved trail is perfect for biking, strollers, wheelchairs and walkers.
Walking, Biking, Strollers
Anhinga Alley | 0.32 miles
Description Coming Soon
Walking
Cormorant Circle | 0.4 mile loop
Description Coming Soon
Walking
Beaver Boulevard | 0.19 miles
Water, water, everywhere! Beaver Boulevard leads you along docks, overlooking ponds and wetland environments with amazing wildlife areas, you never know what you may see!
Walking
Meadowlark Lane | 0.24 miles
Description Coming Soon
Walking, Biking, Driving
Kestrel Court | 0.37 miles
Description Coming Soon
Walking, Biking, Driving
Birkhead Loop | 0.88 mile loop
Description Coming Soon
Walking, Biking
Woodpecker Way | 0.17 miles
Description Coming Soon
Walking
Tree Top Canopy Trail

Temporarily Closed
Have you ever wanted to walk on the wild side? Now is your chance! Enjoy magnificent views from our TreeTop Canopy Trail, which is suspended 35 feet above the ground, and linked to three platforms surrounding magnificent oaks, hickories, and sweet gum trees.
Our 30-minute guided tour offers viewers a chance to observe wetlands, songbirds, vultures, eagles, deer, wood ducks, diverse flora, and other creatures native to our region. In the wintertime, you may even catch a glimpse of Alabama! Binocular rental included.