Film Days at Oxbow

Free Film Days at Oxbow| 4 Saturdays in June & July

Join Oxbow for 4 Saturdays in June & July for free films presented by Nature Now Environmental Film Festival. This films will be rotating throughout the day from 9am to 4pm unless other wise stated.
Film Day Schedules
Animal Kingdom Animations | June 4th
Plants, Parks, Wolves and more!
Films perfect for groups of all ages.
Featuring the following:
What if hibernating animals of different species formed an orchestra and performed a symphony about their winter's sleep? Well, they did—sort of. Because this is the science version of "Peter and the Wolf," starring a frog, a turtle, a bird, a mosquito, a bear, and a fish… Ladies and gentlemen, "The Sleep Cycle" by L'orchestre D'hibernation Animaux.
What happens when fairy tales and reality collide? Throughout history, myths about the "big bad wolf" have generated fear and concern that creeps out of our storybooks and into the real world. By the 1950s, wolves were pushed to the brink of extinction in the lower forty-eight and more was lost than just the wolf. Meet The Real Wolf introduces a new chapter where the apex predator becomes the protagonist, changing the narrative of the ecosystems they are rebuilding. We learn what happens when the wolf is no longer antagonized, but instead realized as the missing link, and the denouement to our story.
A raccoon finds a flashlight in the woods; animated short. This filmmaker won an Oscar for 'Best Student Film, Animated Short.'
Tinybop, a Brooklyn-based startup making educational apps for kids, asked artist Kelli Anderson to imagine the experience of a child stepping into our app, Plants. Inspired by the app's original illustrations by Marie Caudry, Kelli and Daniel Dunnam cut this stop-motion forest — entirely out of paper.
A long time ago wolves and men hunted together, but over time this relationship changed. This animated short explores the relationship between wolf and man and how that relationship has affected wild ecosystems.
For thousands of years, the buffalo or plains bison sustained the many native tribes that inhabited the Great Plains region of North America. But when Europeans arrived in the area, they nearly exterminated the buffalo and an indigenous way of life. In recent years, however, the Assiniboine and Sioux Tribes of Montana's Fort Peck Reservation have joined with other tribal groups throughout the region to bring buffalo back to their ancestral lands and into their lives.

Nature for Everyone | June 18th
Looking for all things wild in nature?
Featuring Love, Trails, & Dinosaurs
Featuring the following:
Told through the eyes of Malik Martin and Chris Dean, Black Ice follows a crew of aspiring ice climbers from the Memphis Rox gym travels to the frozen wilds of Montana, where mentors Manoah Ainuu, Conrad Anker and Fred Campbell share their love of winter adventure in the mountains.
This heartwarming film tells the story of the first person with autism to hike every trail in the Great Smoky Mountains National Park, Garan Moore. His mother, Theresa, shares their story of a journey for weight loss that developed into a passion for hiking--and 900 miles later…one historic achievement.
Made with no flights, recycled footage, and zero net carbon. Given away for free. Viewed 53 million times, played to the United Nations. This film is a personal and passionate call to arms from Greta Thunberg and George Monbiot to use nature to heal our broken climate.
This award-winning comedy series is about a struggle affecting many of us today. Set in the world of a spoofed prescription drug commercial, Nature Rx offers a hearty dose of laughs and the outdoors – two timeless prescriptions for whatever ails you. Side effects may include confidence, authenticity, remembering you have a body, and being in a good mood for no apparent reason.
The Atomic Tree is a journey into the memories of one of the most revered trees in the world—a 400-year-old Japanese White Pine bonsai that witnessed—and survived—the atomic blast in Hiroshima. From Japan's ancient cedar forests and Buddhist temples to the family home in Hiroshima where the pine was nurtured for five generations, this VR experience explores the unbroken chain of living stories held within the rings of this tree. The delicate shape of this bonsai contains sacred forests, human family, and deep time, inviting us to reflect on the living strands of kinship that are woven between human and non-human worlds.
In The Crown, thru hiker, veteran, and Merrell Ambassador Will "Akuna" Robinson completes the Triple Crown of Hiking: the Appalachian Trail, the Pacific Crest Trail, and the Continental Divide Trail. This film shares Robinson's thoughts on this incredible achievement that made him the first African American male on record to complete the Triple Crown of Hiking. Robinson is known within the hiking community for inspiring others to take their first step to get out on the trail and experience the power it brings.
The Wintering Grounds is a short documentary film about a nomadic kayaking community that has sprung up since urban whitewater rapids were restored on the Chattahoochee River in Columbus, Georgia.
A horse logger and his horse take us deep into a forest in the Ardennes as the seasons go by, living his passion under the gaze of a strange young girl. The man will teach her his passion of draft-horse logging: this is a film about the idea of passing down traditions and how some encounters can lead to a life's calling. The short film Traces shows today's youth as the main force of the preservation of our forests. It also highlights the emotional symbiosis between man, the animal, and the forest.

Festival Favorites | July 16th
Enjoy the fan favorites from 2022's Nature Now film festival this day!

Screenings beginning at:
9:00am
10:30am
12:00pm
1:30pm
3:00pm
Featuring the following:
In their quest to identify the pollinator of the ghost orchid for the first time, a team of explorers, photographers, and filmmakers spent three summers standing waist-deep in alligator and snake-laden water, swatting air blackened by mosquitoes, and climbing to sometimes nausea-inducing heights. They came away with a startling new discovery–and an even deeper love for Florida's wildest wetlands–revelations that may help to conserve both the endangered orchid and its shrinking home.
Cormie, a double-crested cormorant, loves money. She loves chasing money, catching money, and if you're not careful, stealing money. Part mockumentary, part true-life tale, "Cormie," reveals the heart of a rescue center working hard to save wildlife in the small coastal town of Astoria, Oregon. As her trainers Melissa and Joshua endeavor to teach her the art of the steal, Cormie illustrates the emotional bonds and intelligence that can be found between humans and cormorants, an oft-maligned "pest" species. For the Wildlife Center of the North Coast, a wildlife rescue center hit hard by the pandemic, Cormie's love of money may be just what the doctor ordered.
In 1997, Lonnie Bedwell lost his eyesight in a brutal hunting accident. Lonnie's faith in most basic abilities was shaken and depression started to weigh heavy on his life. Eventually, Lonnie came across a kayak and fell in love with the challenge of white water. The rest is history as Lonnie set off for the west and became the first blind man to take on the 226 miles of the Colorado River.
Over the past century, farming and the needs of a growing population have replaced nearly all of Ethiopia's old-growth forests with agricultural fields. This film tells the story of the country's Church Forests–pockets of lush biodiversity that are protected by hundreds of churches "scattered like emerald pearls across the brown sea of farm fields."
Suspended in the airy expanse between heaven and Earth, highliners walk a thin, wiggly piece of nylon webbing that's been rigged between two points, very high up. Wave Hands Like Clouds is an ode to finding focus and balance in a moment of exposed vulnerability that leaves the viewer breathless.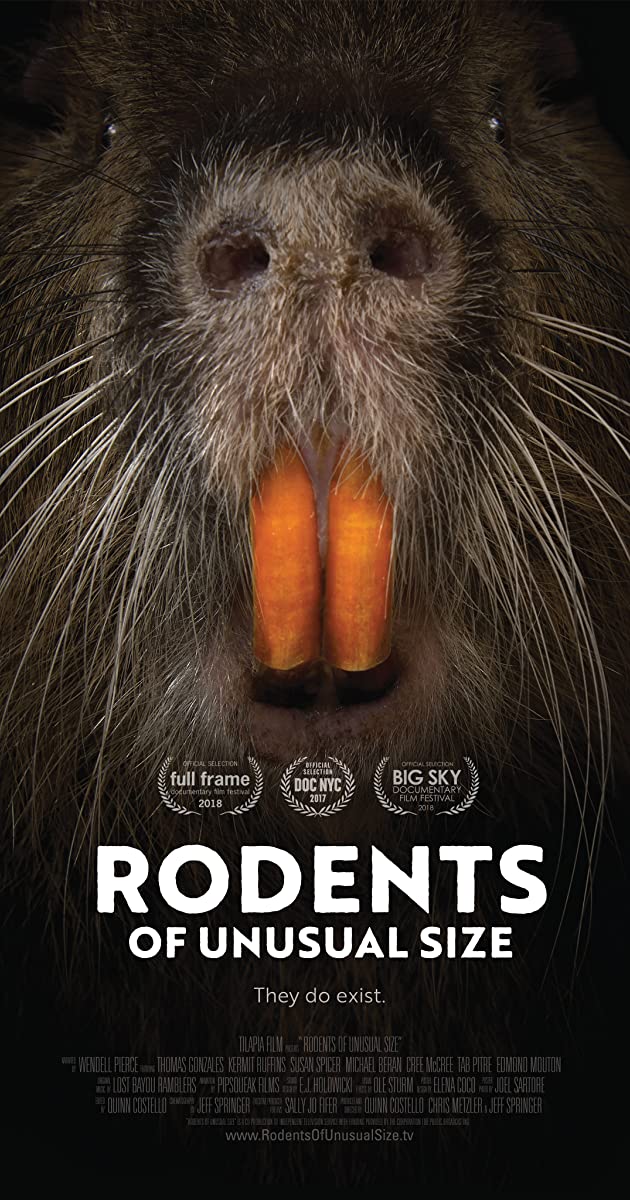 Rodents of Unusual Size | July 30th
Feature Length Film!
Thomas and a pack of lively bounty hunters are hellbent on saving Louisiana before it dissolves beneath their feet. It is man vs. rodent. May the best mammal win.
Screenings beginning at:
10:00am
12:00pm
2:00pm
Featuring the following:
Rodents of Unusual Size
Hard-headed Louisiana fisherman Thomas Gonzales doesn't know what will hit him next. After decades of hurricanes and oil spills he faces a new threat – hordes of monstrous 20 pound swamp rats. Known as "nutria", these invasive South American rodents breed faster than the roving squads of hunters can control them. And with their orange teeth and voracious appetite they are eating up the coastal wetlands that protects Thomas and his town of Delacroix Island from hurricanes. But the people who have lived here for generations are not the type of folks who will give up without a fight. Thomas and a pack of lively bounty hunters are hellbent on saving Louisiana before it dissolves beneath their feet. It is man vs. rodent. May the best mammal win.
Want to learn more about Nature Now Environmental Film Fest?